Greater Tampa Bay's best bets for a bloody Halloween weekend
Say "bloody Mary" thrice in front of the mirror — or not, really. This aggressive beverage is not going anywhere regardless.
The bloody Mary is a cult classic among alcoholic drinks, and it is controversial to say the least. Some even feel simultaneous pangs of delight and disgust at the first sip. This concoction was invented either by a madman or by accident when someone bumped their tomato juice into a bucket of vodka and celery. Then again, that would be a very specific accident.
Speculation aside, here is a quick list of Greater Tampa Bay's most deliciously unforgiving, curiously creative bloody Marys. Tampa Bay's taste buds are really in for it this time…
Classic Bloody — The Avenue Eat + Drink
A classic bloody — yet a bloody good one all the same. The Avenue serves it up with vodka, ZingZang mix and then tops it with celery and crisp bacon. For added zest, expect lemon or lime garnishes on the edge. Too picturesque not to consume.
Bloody Mary flight — 2nd & Second
The scariest thing about a bloody Mary is that the better it is, the sooner it will vanish. For those looking to delay disapparition, the charmingly redundant 2nd & Second offers a whole flight of them. Some are sweet, some spicy — and some are even made with moonshine.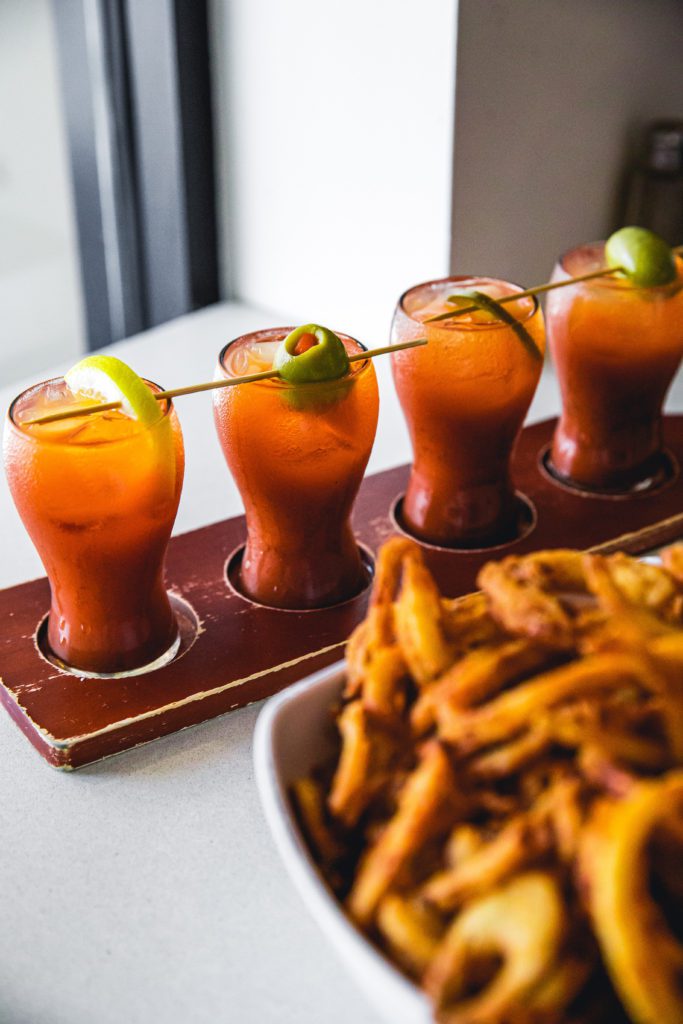 Bold bloody — Cassis
Cassis thought the bloody Mary needed to be bolder, which seems kind of like deciding that sharks do not have enough teeth. Yet, a more toothsome potion cannot be found than Cassis' bloody variant, including orange juice, a mysterious array of spices and even A1 sauce. This bloody pairs well with steak for obvious reasons.
Spicy Bloody — Datz
Upon sipping a bloody Mary from Datz, for the sake of the staff, please do not announce, "Now Datz a good drink" or make any similar declarations. Perfectly allowable, though, is a good deal of contented lip-smacking, which will be hard not to do in any case. Vodka, bacon, Nina's Natural Bloody Mary Mix and Salish Alder Smoked Sea Salt adorn the rim. Ask for the spicy version of Nina's to really scare the buds off your tongue.
Rosemary bloody — Stillwaters Tavern
Even the sinister neighbors in "Rosemary's Baby" would not have fed Rose a concoction this strong. This clever bloody adds devilish flair to everyone's favorite red menace, not by overwhelm but just a touch of rosemary. Or maybe more than a touch — the drink's mix is actually infused with the fragrant herb. Either way, this is just one of Stillwaters' four bloody Mary offers. Safest just to go try them all, honestly.
Hangover bloody — Tryst Gastro Lounge
Tryst really speeds up the ordering process by eliminating the lunch or dinner order — it already comes with the drink. The hangover bloody Mary is loaded up with cheddar chunks, smoked bacon, a tiny hamburger, a pickled pepper and — not to be forgotten — a bright green stick of celery. How the patron consumes this Frankenstein's brew is up to them…but "cautiously" is not the worst advice ever.
Sampler bloody — Get Hooked Grill
Appetizer aficionados will find themselves plenty occupied by Get Hooked's Calcutta bloody Mary, which includes a parade of small treats rocketing shish kebab-style straight out of the glass. Shrimp, pepperoncini, green olive, pickle, cheese wedge — by the time patrons get to the drink itself, happy hour may be over. Normally, alcohol and long wooden skewers do not mix, but this drink is well worth an exception.
Vegan bloody — Ella's American Folk Art Cafe
This bloody is for anyone who was ever told that a slab of meat is not a garnish. The generously inclusive bloody Mary at Ella's opens the gates for vegans and gluten-allergic folks to get in on the action. Of course, no one would know it by the extremely convincing vegan barbecue rib placed temptingly atop the glass.
Make-your-own bloody – Soho Backyard
Some bloody Mary buffs just will not be satisfied unless they can DIY. Enter Soho Backyard, where even the most jaded cocktail consumer will find themselves enchanted by the sheer possibilities: sliders, duck wings bacon, lobster, hot dogs, chicken wings and more. This is the bloody deep end of the pool for the die-hard.
Budget bloody – Mojo Federal Swine & Spirits
True to its name, this swine-centric joint infuses the bloody mix with the breakfast meat of champions, AKA bacon. Mojo also takes pepper fairly seriously — this is not a mild-mannered drink, and patrons will experience heavy spice and flavor. If that sounds good, this will sound better: bloody Marys run for $3 on Sundays. Only the strongest stomachs will survive.
By Drew Mortier